Todd Fox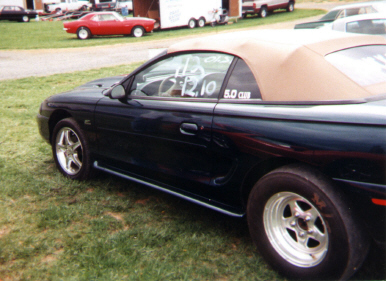 1995 Mustang GT/Cobra Convertible
Mods:
Cobra Front Bumper
Chrome Cobra R Wheels
Paxton SN93 Supercharger
Autometer Pillar Gauges
Underdrive Pullies
3:73 Gears
Off Road H-Pipe
3 Chamber Flowmasters
Cobra Intake
302 Bored Out .30 Over
Shorty Headers
Victor JR. Heads
Custom Ground Cam From Lunati
Tremek TKO(AODE to 5 speed Conversion)
Pro 5.0 Shifter
Ram Clutch
6 Point Roll Cage
Nitto Rear Tires
Kenny Brown Performance Suspension Package
Detailed Motor
Cobra Side Emblems
Editors Note: CHECK OUT THE TIRES OFF THE GROUND!!!!!